How to Make an Oat Meal Tin Camera
---
You can use a piece of cheap paper to test for fitting before you work on the self-adhesive felt paper.
---
Step 3:
---
1. Draw cutting line on the backing of the self-adhesive felt paper.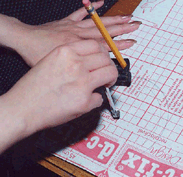 2. Cut along the line you have drawn, and then put the felt paper into the tin to test the size to see if it is correct.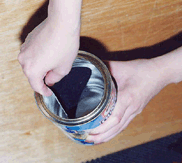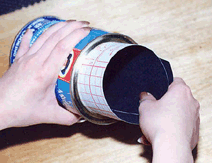 ---
Click on arrow for next or previous steps
Camera design is copyrighted by the camera designer. Any reproduction of this camera for commercial use is prohibited.
Web page build at September 26, 2000, last update April, 2008
All design and images in this page copyrighted ©2001-2008 Zero Image Co.